Setup for Android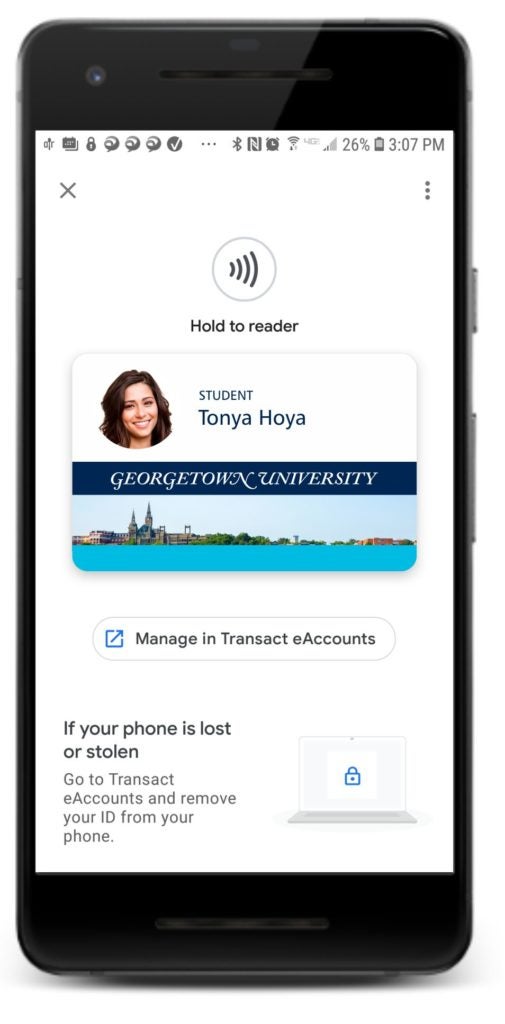 Setting up Mobile Credential on Android
NFC needs to be available on your phone and active for GOCard Mobile Credential. If you are not sure if your phone has NFC and if it is enabled, go to your Settings menu and look for NFC. It may be under Connected Devices> Connection Settings on some phones. (If you cannot find it, use the search option on the top right to double check.) Once you find it, toggle the setting to On.
1. Next, open Google Pay:
https://play.google.com/store/apps/details?id=com.blackboard.transact.android.v2

(Note: If you're newly arriving in the US and are experiencing a country or region error, refer to the Google support articles "Change your home or billing address" and "Change your Google Play country" for instructions on updating your information while you're studying at Georgetown.)
2. and make sure it is enabled as well. If you do not have Google Pay on your phone, you can download it free in the Play Store. If the app prompts you to add a credit card, you can bypass that screen and return to the Google Pay home screen.
3. From there, open the Play Store (again, if you installed Google Pay), search for the Transact eAccounts app (new window) from Blackboard and install it.
4. Open eAccounts, click through the startup prompts and tap Get Started.
5. Find Georgetown University and continue to the GOCard login screen.
6. Log in with your Georgetown credentials and enter your NetID Login to authenticate your device. If you do not have your NetID Login, please see the link above for further instructions.
7. Once you have successfully authenticated, you will see your GOCard Mobile Credential accounts (Debit$, Flex$, Printing & Laundry funds and dining plans) along with any related transaction history.
8. Click Add to GPay.
Using Mobile Credential on Android
You do not need to unlock your phone, but the screen must be awake to use your GOCard. Tap the power button to wake the screen and hold the middle of the phone near the top of the reader.
To display your GOCard, open the eAccounts app and click your photo in the top left corner.
To add funds to your accounts in the eAccounts app, save a payment method at: https://onlinecardoffice.georgetown.edu first. Make a deposit via your desktop or mobile browser and once you have completed the deposit, there will see an option to save your credit card information. Once you have added the card information on the Online Card office, that card will be available in the eAccounts app for future deposits. If you have already used eAccounts to access your mobile credential, you will need to sign out and back in to update the saved payment information.